Medical Coding and Billing Training
As a leading Education institution Bliss Academy of Medical Coding, We offer the unique opportunity to face challenges through enriched learning, academic excellence, professional training, and corporate exposure. We are developing your skills and knowledge that relate to the across professions.
We have specific goals for improving the capability, capacity, Productivity, and Performance. It forms the core of apprenticeships and provides the backbone of content at your concerning career. In addition, we are helping you to get trained for your required occupation or profession. Instead of providing broad education, our programs teach specific skill sets in just 4 months, so students can quickly be career-ready. Bliss Academy under the management of well-experienced professional with more than 12 years from UAE healthcare Industry
medical coding and billing training, medical coding course, online course for medical coding and billing, medical coding institute in kochi, cpc exam training centre near me, medical coding and billing course, medical coding institute in ernakulam, medical coding institute in kerala, medical coding in kerala, cpc certification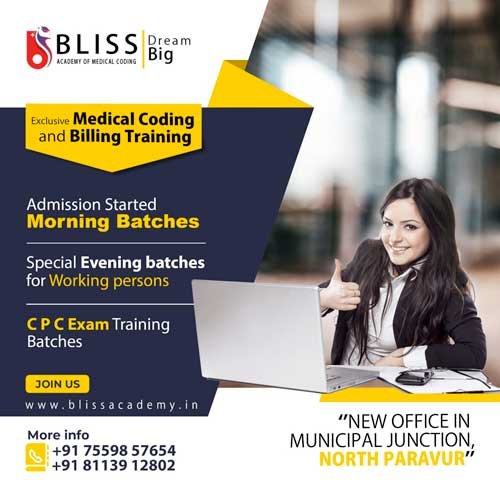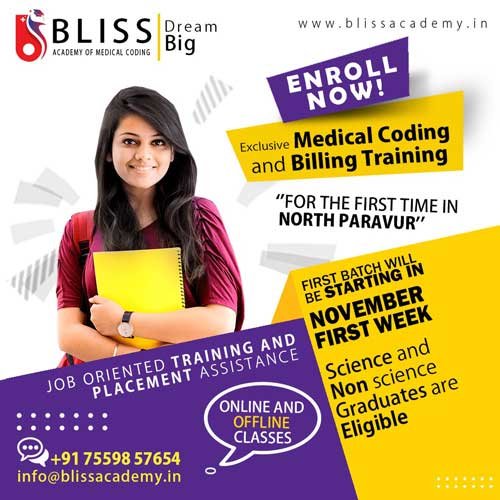 To start your career as a medical coder.
Quality in training
To prepare students for employment within the industry for which they are trained.
Building trust in our trainees
The trust of our trainees on us makes us reach more heights in this field.
Giving 100% result oriented training
To provide educational programs through a successful instructional delivery methodology that develops the student's knowledge, skills, attitudes, and work habits.
Innovation in methodologies
Our innovations and passion towards training is the answer for why you need to choose us.
Best place to start your career in medical coding.
Responsibility
We are responsible for our commitment, innovation and technology excellence, We are responsible for our trainees and their Career growth.
Empowerment
We empower our students with knowledge to built their career by themselves.
Passion
Our passion towards training makes us to provide quality training in Healthcare industry. It make us to prove as an No. 1 Academy in Medical Coding.
Accountability
We accounted to fulfil what we promised and we accomplished it.
Loyalty
The loyalty of bliss accademy, is the answer you will get from our trainees.
Creativity
Our creative modules and ideas make our trainees every time to feel ease in understanding and remembering the concepts. We believe in Creativity to serve always with new things in Bliss accademy.
To provide comprehensive medical coding programs that are taught in a convenient, thorough, and affordable manner to build new employment or career advancement of the student.We have created a roof for all medical coding programs and placements that help freshers and experienced medical coders to grow in their career.To build and sustain our reputation as a leading service provider delivering high quality consistently. We will achieve our vision with continuous training utilizing advanced technologies.
Improving professional learning outcomes by raising the status and quality of teaching in medical coding education.To provide high quality services generating optimal revenue for our clients with integrity, honesty and in compliance with the laws and regulations of our industry.Always our results speak to our quality in training and commitment towards the work. Our training makes the graduates turn into professional medical coders and experienced medical coders into highly qualified coders for any company in any department.
medical coding courses in Ernakulam, medical coding, medical coding course in malayalam, medical coding training in kerala, cpc exam training centre near me, medical coding and billing training institute, medical coding institute in kochi